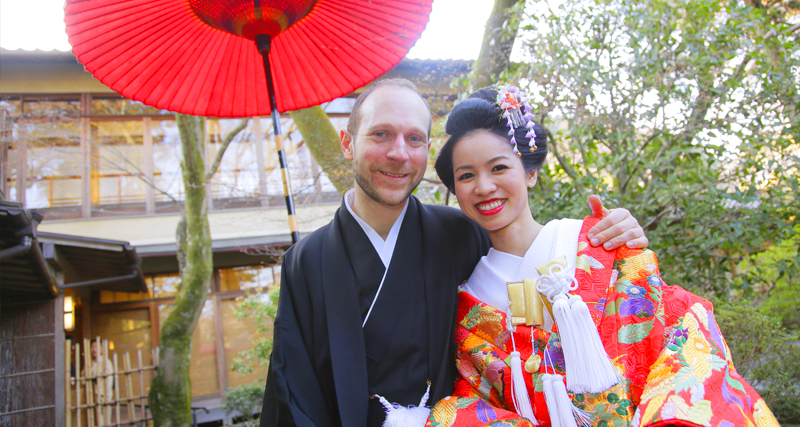 2015.3.31 N and T- Kamigamo Shinto Shrine and Heihachi Jaya Inn
T, who lives in London, England, contacted us via our English website and continued to send us emails in order to exchange information. When he told us he had decided to use our wedding and reception services, we found out his fiancée is Japanese!! It was an interesting start for us all (lol). We finally met N and T in person on the day before their wedding. They were a really friendly, lovely couple, so we truly enjoyed communicating with them!
As it was sunny on the day of their wedding, their wedding ceremony and photo shoot went well! T read his wedding vows in both Japanese and German and they enjoyed a great photo shoot under the fully-bloomed cherry blossoms.
With their lovely families, relatives and friends, they enjoyed a wedding reception at the Heihachi Tea House! They experienced a matcha tea-flavored wedding cake cutting, Maiko (traditional Japanese apprentice Geisha) Japanese dance performance and various traditional Geisha games. It must have been a great and truly memorable experience for them! They even enjoyed games prepared by T's sister and her boyfriend! All of their family, relatives and friends were really nice and warmhearted!
We wish them a life filled with happiness! Congratulations!